The Abicana Store - Tips for men to give women a great orgasm. Also drugs and toys for women to enhance sexual satisfaction and abilities.

Main page with links to many types of products and information - medicines, fitness items, cosmetics, vehicle parts, rc models, apparel, house quipment and more

Mail:
aquila_grande@yahoo.no


To find products to gain stronger sexual peformance and pleasure for women, please see further down

To a great exhibition of natural medicines, tools and toys for both men and women to improve intimate anatomy, gain more potency and amplify sexual pleasure. For example products to increase penile size and make the erections bigger, more eager and more stable

Hobby products: RC airplanes, helicopters, drones, boats, cars. Airsoft guns. Chemistry kits. Electronic kits and much more.

Click here to see articles with tips to prevent and combat diseases, to improve bodily shape and strength, to gain condition, to improve mental capacities, to rejuvenate yourself and to amplify sexual potency and pleasure.
Some advices to bring a woman to orgasm - advices meant both for men and woman

These advices are meant both for men when they have sex with their women, for women having sex with their gilfriend and for women playing with themselves.

Probably most women will get the most intense orgasm, and felt in great part of their body, if you begin with a gentle and gradual foreplay, where you caress her all over, but also gradually approach the more intimate areas in her body. Women are however different, and you must also be listening sensitively to her reactions and wishes during the whole act.

Then you begin the most intimate face of the sex act where you either have ontercource or are playing otherwise with her most intimate openings and the parts round these. Also at this part it is usually wise to begin very gently, and very gradually act more intensely. Chenging some times between very gentle and intese periods also often give give the strongest general exstacy and the most intense feelings in the inimate area, like the clitoris, deep vulvar region, vagina, anus and deep zones inside her anal regions.

Towards the end of the act a woman can be brought to orgasm by stimulation against the clitoris or against the G-spot. You can also stimulate both the G-spot and the clitoris at the same time. Some woman can also get an orgasm by breast nipple stimulation or by stimulation in the buttock region and anus. Even though one area is the main point of stimulation, the orgasm usually involve sensual and physiological reactions from the other areas also. Threfore more than one zone should be used.


About stimulation on the clitoris

The clitoris is the body found between the upper parts of her lips.

Tis zone is most easy to stimulate if the woman has been aroused mentally and physically by a good foreplay.

In an aroused woman, the clitoris and the tissue around the vagina are filled with blood and engorged. A penis inside the vagina in a engorged female organ will excert a pressure that will propagate throug the whole sexual organ of the woman, and stimulate both the G-spot and the clitoris.

You can stimulate the women on her clitoris by your fingers to orgasm, if you want. You begin by stimulating gently and then increasing the intensity gradually. The woman will respond by contracting her muscles and by pelvic movements to increase the stimulation even further. These contractions will intensify as she reaches the orgasm, and by orgasm she will tense all the muscles in her body as in a great spasm. You will also hear her breathing intensify.

However, after the clitorial orgasm, the woman should allow you to penetrate her, and satisy yourself in her vagina. This will sometimes lead to a new arousal by your woman and a new orgasm.

It may also be helpfull to stimulate the clitoris with the fingers before the intercourse to arose the woman maximally, but without bringing her to an orgasm, as a preparation for orgasm by vaginal penetration thereafter. In this case you must stop the stimulation before the woman goes into a total ecstacy, that is before her muscle contractions reaches the maximum level.


<About stimulation on the G-spot

A good foreplay that already have made the woman aroused and her vulvar region blood-filled and engorged is essential for a successful stimulation of the G-spot. The G-spot is located some way inside over the upper wall of the vagina, but you must search some time to find it. Also it is not a very distibct spot, but a wider zone deep inside the tissue past the vaginal wall.

It may help her to reach the arousal necessary for orgasm by stimulating her G-spot with your fingers. You insert one or two fingers gently into her vagina. Then you press and massage gently against her upper vaginal wall some distance inside the entrance. You may have to search some places with your fingers before you find the right spot, and you may have to try several degrees of pressure. When you find that her arousal intensifies by her muscular contraction, by an increased breath or by other signs, you gradually intensify the stimulation. But also in this case you stop to stimulate her before she reaches her peak.

Then you put your penis into her vagina. By now, her vulvar tissue is so engorged that any movement in her vagina will reach the G-spot, and even the clitoris as a wave, and stimulate her further towards the orgasmic peak. You can however, increase the stimulation by directing your penis in several directions, rotatating your penis in the vaginal area or by pressing the upper side of your penis upward against the upper vaginal wall. Do not race away towards your own orgasm, but take your time to let the stimulation build itself up in the inner zones of the female organ.

You will feel the development of the womans arousal towards the full orgasm by her muscular movements. The more intense her movements are, the nearer is she her peak. Try to intensify your own movements in syncronization with the movements of your woman.


About stimulation on the buttocks and inside the butt cleft

The buttocks, the area between the buttocks and the anal area is a very sensual zone in each of the sexes. By caressing the woman's buttocks or caressing her inside her cleft, you will add stimulation to bring her towards a full orgasm. Of course this type of stimulation can only be done if you lay in a position that allow your hands to reach your woman's backside. Many women are however somewhat senitive against manipulation of their rare zones, as also many men are, due to principles they have learned through their upbringing. Therefore you should go foreward somewhat cautiously when caressing this body part.

The grove just under the tailbone and above the rectal opening often give special intimate feelings upon stimulation. You can gently press a finger into that grove and move it around there.

You can also spread her buttcoks with your fingers so that her anal area is streched. You can furthermore caress the inside of each buttock with your fingers or caress her anal opening with your finger tips.

If the woman is in position for it, you can reach around here with both your arms, take hold of noth her buttocks and spread her rear end open, and at the same time you can gently pull upwards so that the women feels a lifting force. This action is especially effective if the women is laying over you.


How to stimulate your women at her breasts

You can caress a whole breast inside your hand by holding around it and gently squeezing it. The pressure will spread out to her nipples and give her a lot of funny feelings. You can also stroke your hand several times over a breast so that the nipple get gently flipped up and down or from side to side. You can circulate a finger tip around a nipple, giving her a funny and intense ticling. You can also gently squeeze the nipple between to fingers or masturbate the nipple up and dowm. These actions give the women very intense feelings, and sometimes even an orgasm. Even though these actions alone are not allways enough to bring forth an orgasm, they finally contribute to the intensity and deepness of the orgasm when it comes.

Please scroll past the product presentations to read more.
Some products to increase female sexual satisfaction and potency
Sex toys and tools for intimate massage
Equipment for sex fun, condoms, lubricants and erotic massage products - Through these links you can find all kind of equipment for sexual stimulation, for erotic massage and protection during sex. You can find: Condoms, dildos and vibrators, lubricants, massage lotions, perfumes, penis pumps, sexy underwear, toys for sexual roleplay, sex DVDs and magazines and much more.

The Erotica Store - to see all the equipment of sex toys, please go here

Lubricators for a smooth, soft and sensual action

Oils, lotions and tools for sensual massage

Vibrating stimulation tools

Dildos - mostly for the vagina, but some wil also fit the rectal entrance

Anal and rectal toys and lubricants

Eggs to keep in your vagina or other intimate areas
Creams for women to maximize genital pleasure
Vigorelle - female pleasure cream - To increase the pleasure in the clitoris, genital lips and vaginal area, to lube and to boost a women's intimate reactions like: vaginal lubrification, pelvic blood supply and engorgement. The increased intimate reactions will then also increase general excitement and erotic ecstacy.

Please click here to purchase Vigorelle or read more
Hersolutiongel - to tease up her physical lust - This topical product is to be placed on the most senual zones in her vulva. It makes her blood fill into her intimate areas. It smoothly lubricates the entrance to her inside. It instantly turns on strong physical feelings and contribute to an intense orgasm.

Please click here to learn more or buy - HersolutionGel
Pills for women to increase pleasure and performance
Provestra ( Estravil ) - herbal lust pills for women - These herbal pills stimulate a woman's mental excitement, good physical sensations and endurance. They also optimize intimate blood supply, engorgement in her vulva, lubrification and sexual reflexes. They will then also improve her genital pleasure, orgasmic strength and fertility.

Please click here to purchase Provestra or read more
Hersolution pils - Hersolution Pills - for strong female physiology, good lubrication, strong feelings and less menstrual problems - These pills are made to strengthen and ballancing the female hormonal system and female abilities. This in the next turn leads to less menstrual problems like cramps, hot flashes and mood swings. It also leads to increased sexual excitement and more good feelings in the mind and in the vulvar region

Please click here to learn more or buy - Hersolution
Products to improve female sexual anatomy
Total Curve - treatment kit to enlarge and shape up the female breasts - This package consists of herbal based pills with substances that safely stimulate breast development and vitalization, it also has a gel to be smeared on the breasts that give the same effect from the outside and there are instructions for breast development exercizes.

Please click here to purchase Totalcurve or read more
Cometic products to boost sexual attraction
An exhibition of erotic fragrants for women and men - There are a lot of erotic perfumes on the market that will give an sexual attraction on other humans by the content of deepworking pheromones or by the mere sexual scent of the product, or both. This link leads to an exhibition of many of those products.

Please go here to see an exhibition of a lot of erotic fragrants and perfumes for women and men
Stopgrowthnow - topical body hair remover for women and men - Removes unwanted hair by interrupting the initial phace of the growth of a new hair, thins out existing hair, reduces hair size. It decreases need for vaxing and shaving.

Please click here to purchase Stopgrow - topical product to stop growth of body hair
Treat thin hair and baldness - for men and women - Advecia is a new all-natural herbal supplement with ingredients proven to provide hair follicles with essential nutrients that aid in strengthen the hair follicle and the production of hair from the follicles. It also contains ingredients to block the DHT, the substance in the male body that hinders hair to grow. It can slow down or stop hair loss and may rewake dormant follicles.

Please click here to learn more or buy - Advecia
More products to optimize sex life and health
Rejuvenate your body and mental capacities by effectivizing your growth hormone production - A better growth hormone production will help regain skin thickness, muscle intactness, a jouvenile muscle/fat-ratio and other properties of youth. These products makes your body produce more growth hormone to the right time.

Go here for Genf20 - a drug for general rejuvenation of the bodily, mental and sexual capacities and of body proportions

Go here for Genfx - a drug formulated to rejuvenmate generally body shape, strength. potency and mental acuity

Go here for Hyperggh14z - a drug formulated to restore and add more than ever muscle volume, strength and integrity

Go here for Provasyl - a drug formulated to restore the body and mental capabilities of men from the middle ages and older
Here you can find many more drugs for mental, sexual and bodily rejuvenation and restoration. - The site has several great products to combat chronic problems and aging changes in the skin, blood circulation, joints, digestion and generally working anti-aging drugs. There are also effective products to help slimming and to develop or revitalize your muscles.

Products for men and women to increase potency and sexual satisfaction. Anti-aging medicines. - please click here
More products to optimize sexual life of women and men

More products to help for specific health problems - digestive, cardiovascular, respiratory, rheumatic, nervous, hemorrhoids, thyroid, poor memory, fatigue, edema and more
Some more about female orgasm

Orgasm is the concluding plateau phase of the sexual response cycle, where the feelings and other reactions are at their greatest. Orgasm is controlled partly by voluntary desicions and partly by our involuntary, or autonomic, nervous system.

The feelings of being stimulated in the genital zones give a conscious lust for even stronger feelings.This lusts makes the women or man stimulate herself or himself steadily more. The feelings from the stimulation that steadily increase make the brain and spinal cord send impulses back to the genital region through autonomic nerve fibre bundles that induce several types of recations. Also these impulses sent back and the reactions they create increase stedaily more. The steadily increasing reactions also add to the steadily increasing feelings. At a point both the voluntary stimulation, the feelings and the autonomic reactions reach a peak which is the orgasm.

The autonomic reactions before and during orgasms are several: Orgasm is accompanied by quick cycles of muscle contraction in the lower pelvic muscles, which surround the primary sexual organs and the anus. Orgasms are often associated with other involuntary actions, including vocalizations and muscular spasms in other areas of the body, and a generally euphoric sensation.

A woman can get orgasm by stimulating several points, the citoris, the vagina, the anal area and the breasts, or by a combined stimulation of more of these areas.

After orgasm there is often a refractory period, that makes it difficult to get a new orgasm before this period is over. The period can be very short or longer, and sometimes also lack. In this period, the person feels tired and the sexual organs may feel hypersenitive in a way that makes further intensestimulation unpleasant. The women may however feel a lust for very gentle fondling of her genotal zones in this period with her body being in a very relaxed state. This period often contain feelings of being happy and satisied.

After a while there may arise a new lust for more intensive stimulation again that leads to a new orgasm. Sometimes for some women the lust for new intense stimulation arise nearly immediately after the orgasm so that she begins a new stimulatory cycle towards an orgasm, and this feeling for new intense action may arise several times consecutively, a phenomenon called multiple orgasm.

Eventually the woman will feel fully satisfied and there is no need for further sexual activity to achieve pleasure.


Clitorial orgasm

Orgasm by clitorial stimulation is sperhaps the most common one. This can be achieved either by direct stimulation of the clitoris, or by indirect stimulation by pressure waves or pulling form the vaginal or stomach area during intercourse.

According to an outdated hypotesis, originated by Sigmund Freud, clitorial orgasm belongs to unmature women. When women mature properly, the theory sais, their lust area shifts form the clitoris to the vagina. The hypotesis has done, and still does a lot of harm, causing many women to feel inadequate or unnormally developed.

As a reaction on this theory from feminist groups, the opposite hypotesis arose that women can only get orgasm through clitorial stimulation. This teory, which is also simple nonsense also has had, and still has a great impact on sex therapy and psychology. Also this theory has done a lot of harm by hindering women and couples from enjoying the full richness of the sexual life.

However, there is a kind of truth in this latter theory. The visible clitorie is actually just a part of a greater body, that goes deep inside under the pubic bone, and reaches all the way down to the vagina. Therefore, stimulation aginst the upper vaginal wall, actually stimulate the deepest part of this greater organ.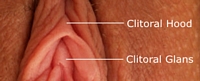 Picture showing the clitoris. The clitoris have a hood and a head, the cliroris is situated just over the place where the inner female lips begin and these lips are continuous with the clitorial head (glans), The clitoris is an important stimulatory pint for reaching orgasm, but the visible clitoris is just a part of a greater sensitive structure that continues as two branches at both sides of the great lips and another branch going towards the vagina and the G-point.


Vaginal orgasm or G-point orgasm

In 1966, Masters and Johnson published pivotal research about the phases of sexual stimulation. Their work included women and men, and unlike Alfred Kinsey earlier (in 1948 and 1953), tried to determine the physiological stages before and after orgasm. One of the results was the promotion of the idea that vaginal and clitoral orgasms follow the same stages of physical response. Masters and Johnson also argued that clitoral stimulation is the primary source of orgasms.

However, the clitoris extends inside towards the vagina and also armifies to both sides under the great genital lips. The clitoris is consecutive with structures around the urethra and just above the upper vaginal wall. Recent anatomical research shows that there are also nerves connecting intravaginal tissues and the clitoris.

This anatomical evidence strongly supports the claim from many woman that they can get orgasm by stimulation through the vaginal wall. The part of the total structure that lie near the vagina is simply the so called G-spot. However, the G-spot is a part of a total body that also includes the clitoris, and orgasm induced through vaginal stimulation probably also involves reactions in the clitoris that is strongly connected to the structures just above the vagina.

The anatomical evidence that the clitoris has inner parts and that these parts are further connected to structures around the urethra and very near the vagina could explain credible reports of orgasms in women who have undergone clitorectomy as part of so-called female circumcision (also called female genital mutilation).


Anal or rectal orgasm

Anal orgasm is an orgasm brought on by anal stimulation, such as from an inserted finger, penis, or sex-toy, or by other activities stimulating these areas. A woman may also come to orgasm without stimulating the anus directly , but by stimulation of the buttocks and anal cleft with the tongue, fingers or penis.

In both sexes pleasure can be derived from the nerve endings around the anus and in the inner lining inside the anus itself and stimulation of these areas can bring about an orgasm. Another theory on the source of anal pleasure and orgasm in the female is the perineal sponge. The perineal sponge is an erectile structure located between the vagina and rectum that responds to stimulation like any other erectile tissue.

Anal orgasm has nothing to do with the prostate orgasm, although the two are often confused. This confusion gives often rize to the faulty belief that wimen are not interested in anal or rectal stimulation, because they do not have a prostate. Women do however have tissues with the same origine and the same feelings, two glands on both sides of the urethra. These tissues are however a part of the total G-spot.

Anecdotal evidence suggests that some women experience anal orgasm as qualitatively different from clitoral or vaginal orgasm, though for many others the distinction is less clear. Anal sensations are somewhat different from genital sensation. They often get strongest by very gentle stimulation in an relaxed state. Such stimulation will often bring reflectory or semiconscious movements in the anal muscles that enhance the stimulation further.

A woman can get anal orgasm by means of penile intercource in the anus. from a sex toy inserted into the anus, or from a finger.

However, anal orgasm is probably seldome wholly pure of anally origine. Stimulation of the nerves inside the anus may givr rize to reflectory contractions around the vagina and in the muscular structures connected with the clitoris.

Typically also the G-spot and the clitoris will be stimulated by means of pressure waves passing upwards from the rectum to the G-spot and the clitoris. Thus the orgasm will often have contribution both from the anus, the G-spot and the clitoris. Orgasm with the origine in the anus This is often greatly facilitated through additional manual stimulation of the clitoris.


The contribution from the bladder

Women or men do probably not have orgasm originating from the bladder, but stimulation of the bladder still contribute to the total combination of feelings leading to orgasm. During urination both sexes have lustful feelings from the bladder that give a sort of climax resambling an orgasm. The same senual areas will be stimulated from the physicsl waves propagating through the intimate regions during sexual activity abd also the bladder will give rize to the lustful feelings leading to orgasm.

During sexual activities and especially in the moments leading up to the climax and throughout the climax the spincter right underneath the bladder constricts so that urine do not leak out. The urine inside the bladder is a medium for probagation of pressure and pressure waves to in all directions around the bladder. Thus the bladder through the virbrations in the bladder wall stimulates all surrounding sensual zones.


Breast orgasm or climax from the breast nipples and the zone around

Some women can orgasm from stimulation on the breast nipples and surrounding areas. Not all women experience this effect when the breasts are stimulated, however many women claim that the stimulation of the breast area during sexual intercourse and foreplay, or just the simple act of having their breasts fondled, has created mild to intense orgasms. Some women also get orgasms when their babies suck their breasts for milk.

According to one study that questioned 213 women, 29% of them had experienced a breast orgasm at one time or another, While another states says that only 1% of all women experience breast orgasms. This seems to vary for different women. An orgasm is believed to occur in part because of the hormone oxytocin, which is produced in the body during sexual excitement and arousal. It has also been scientifically proven that oxytocin is produced when a woman's nipples are stimulated and become erect.

Orgasm produced by breast stimulation probably originates partly from the genital area. The hormone oxytocin and reflectory movements in the genitals brought about through the nerval system will stimulate and contribute to the rize of the orgasm.


Muliple orgasms - how to achieve multiple orgasms

In some cases, women either do not have a refractory period or have a very short one and thus can experience a second orgasm soon after the first. Some women can even follow this with additional consecutive orgasms. This is known as having multiple orgasms. After the initial orgasm, following climaxes may be stronger or more pleasurable as the stimulation accumulates. Research shows that about 13% of women experience multiple orgasms; a larger number may be able to experience this with the proper stimulation (such as a vibrator) and frame of mind.

It is difficult to give exact advices about how to get multiple orgasms. For some women these seem to be of their natural ability, but here are some hints.

By having a long foreplay with a lot of gentle fondlig and stimulation, the general physical and mental sexual ecstasy will be maximized. This high ectasy may make it more easy to get multiple orgasms.

Some women tell that multiple orgasm are achieved more easily if they hold back the stimulation somhow at the first place so that the first orgasm does not get so strong.

Other women tell that multiple orgasm more easily occur if they stimulate themselves or are stimulated vaginally than by pure clitorial stimulation.

Maybe volunary muscular work by contracting willfully the muscles ariund the vagina and the rest of the pelvic zones after each orgasm can ease the next orgasm to occur.

However, for some women, their clitoris and nipples are very sensitive after climax, making additional stimulation initially painful. Taking deep, rapid breaths while continuing stimulation can assist in releasing this tension. There are sensational reports of women having too many orgasms, including an unauthenticated claim that a young British woman has them constantly throughout the day, whenever she experienceds the slightest vibration.


Female ejaculation, what is that?

There are many claims that some teenage girls or women can ejaculate when they get an orgasm or secrete precum just like a teenage boy or a man. Some experts simply dismiss these claims, sometimes by explaining that the phenomenon interpreted as ejaculation is nothing but e squirt of urine comming out when the women orgasms.

Sometimes this explanation can be true or a part of the truth. The urethra of a women has glands that secrete lubricating slime, and urine blended with such slime can feel and look like an ejaculation.

But women do secrete fluid of the same type as prostate fluid too. At both sides of the urethra there are two glands opening up and these make such fluid, the paraurethral glands (Skene glands). Further down on both sides of the vagina there are two other glands opening up to the surface that make something similar, the Bartolin's glands.

Probably these glands of some women eject their secrets strongly during urgasm so that these women in fact ejaculate. If secrets from the urethra blended with some urine also is ejected at the same time, the total effect may seem even stronger.

(Much of this information about female orgasm is compiled from wikipedia.org and the information is therefore free to copy)


These statements have not been evaluated by the Food and Drug Administration. These products are not intended to diagnose, treat, cure, or prevent any disease. This information is nutritional in nature and should not be construed as medical advice. This notice is required by the Federal Food, Drug and Cosmetic Act.