The Abicana webstore - affordable products for any vehicle


Mail: aquila_grande@yahoo.no

Back to main menu - hobby, health, fitness and training, automotive, skincare, fashion, electronics, music instruments, erotic products for men and women

Back to hobby and car menu - rc airplanes, cars, boats, robots, chemistry kits, electronics kits, physics kits, building kits, airsoft guns



Products to increase fitness, beauty, potency and working capacities. Items to help you combat aging and restore youthfull properties in your skin, circulatory system, muscles, joints, digestive system, senses, genitals, brain and nerves.


Car parts, accessories and tools to repair and upgrade vehicles

Welcome to this presentation of car and vehicle parts, vehicle accessories and commodities to use in your vehicle, and of sources where you can find more products than those presented here. Furher down there is some information of the history of Mercedes Benz
Online sites with all kind of car products for a cheap expence
Good general online stores for vehicle parts and equipment - Here are some good online stores for vehicle parts and eccessories presented. They are all general warehouses with all kind of equipment, but each of them have an especially great inventory of certain type of equipment as indicated.

Autobarn - a great inventory in seat parts, seat and floor covers, internal consoles, car electronics, communication equipment, car radio and video, styling, garage tools, security equipment, wash and grooming, cargo handling and comodities for journeys.





Partsgeek - a strong inventory of motor parts, transmission parts, cargo handling and most mechanical parts.





Autoanything - Much to find within parts for the electric system, brakes, exhaust system, lightings, mirrors, locks, doors, car body, stearing, fuel system, performance upgrade, wheels, breaks and suspention.





Theo good places to find parts for four wheel vehicles, tools to use outside the roads and equipment to handle loads outside the roads.

4WheelParts.com - Your Off-Road Superstore


Shop 4Wheel Drive Hardware For All Your Jeep Needs



Dino Direct - a general warehouse for car electronics, GPS systems, electronics for homes and workplaces and much more - Here you can find all kind of optical, communicational and audiovisual equipment for hobby, education and professional use, like cameras, telescopes, microscopes, cell phones, audio and video players, screens, loudspeakers, TV sets, home theaters. You can also find home decorations, jewelry, cosmetic, fashion and rc models.


Examples of the many products available


SOME OTHER ITEMS
RC helicopters, airplanes, cars, electronic sets, chemistry sets, airsoft guns and other hobby items

Vitamins. minerals, anti-oxidants, glyconutrients, noni, acai mangosteen and other supplements

Products against erection problems or to improve male and female sexual, please click here

Naturap products to help for specific common diseases, pleace click here

Skincare, natural drugs for skin problems, quality cosmetics, anti-aging products, fashion


TestRX - Natural drug to make you produce more testosterone and thereby increase sexual drive, potency and energy for sex. Also to help increase capacity for work and training, and help building muscular mass by training





Natural medicine to increae your ability to store and record memory, to enhance allertnes, to boost thinking acuteness and help for mental tiredness - Brain Pills.


Information resources for our visitors

- Here is some information about BMW and Mercedes Benz. To find other information resources, please go to this page
The characteristics of Mercedes Benz


The cars produced by mercedes benz are cahracterized by comfort good finnish and durability, that is a combination of properties that together comprize the concept of quality.

Mercedes benz products are of cource also characterized by such properties as agibility, sportyness and performance, but it has been the aim of the company at all times not to let these properties compromize the quality.

Since its inception, Mercedes-Benz has had a reputation for uncompromising emphasis on quality and durability. Increased focus on costs and volume, and the dramatically increased complexity in modern automobile electronics led to plummeting quality in the late 1990s and early 2000s. By 2005, Mercedes temporarily returned to the industry average for initial quality (if the "complexity" variable was ignored), according to J.D. Power. In J.D. Power's Initial Quality Study for the first quarter of 2007, Mercedes showed dramatic improvement by climbing all the way up to 4th place, surpassing quality leader Toyota and earning several awards for its models.



The history of Mercedes Benz

The origins of the Daimler-Benz company founded through a merger in 1926 date back to the mid-1880s, when Gottlieb Daimler (1834-1900) working with Wilhelm Maybach (1846-1929), and Karl Benz (1844-1929) independently invented the internal combustion engine-powered automobile, in southwestern Germany. Although they were merely sixty miles apart, these pioneers were unaware of each other's early work.


The first logo of Mercedes-Benz from the 1926 merger of the companies of Karl Benz and Gottlieb Daimler.Karl Benz had his shop in Mannheim and invented the world's first true automobile powered by an internal combustion engine in 1885. It had three wheels. He was granted a patent for his automobile, dated January 29, 1886, for what he called the "Benz Patent Motorwagen". Among many inventions, Benz patented his first engine in 1879 and included in his 'integral' design for the Motorwagen patent application, a high-speed single-cylinder four-stroke engine of his own design.

In 1885, Gottlieb Daimler and design partner Wilhelm Maybach, working in Cannstatt, Stuttgart, were granted a patent dated August 29, 1885 for what is generally recognized as the prototype of the modern gas engine, that they named the "grandfather clock engine".

On March 8, 1886, Daimler purchased a stagecoach made by Wilhelm Wimpff & Sohn and he and Maybach adapted it to hold this engine, thereby creating a four-wheeled carriage propelled by an engine, as many had before them. The only distinction about this carriage was that it carried an internal combustion engine. None of many similar attempts to adapt carts, boats, or carriages, in many countries, were propelled by this type of engine. On the official history pages of the Mercedes-Benz Internet site it is referred to as "a carriage — without a drawbar but with the conventional drawbar steering. A carriage without horses..." Daimler and Maybach later purposely built, from scratch, the first four-stroke engine powered automobile with four wheels in 1889. They founded DMG in 1890 and sold their first automobile in 1892.

Stationary engines were his major business and he invented many improvements to them and their application, but Karl Benz continued to refine his Motorwagen through several models and sold his first automobile in 1888. He built his first four-wheeled model in 1891. Benz & Cie, the company started by the inventor, became not only the world's first, but also largest manufacturer of automobiles by 1900.

In 1899, DMG automobiles built at Untertürkheim (a city district of Stuttgart) were raced successfully by Emil Jellinek (1853-1918), an automobile enthusiast and dealer. He had the name of his daughter, Mercedes, painted on the automobiles for good luck. Wanting faster race cars, it was Jellinek who spurred the development of the seminal 1900 DMG model that would be the first of the DMG Mercedes series, bearing the name of his daughter.

After suggesting some design specifications, he promised to purchase thirty-six of the new DMG model if Maybach would name the new 35 hp engine contained in it the Daimler-Mercedes engine. A contract of five hundred and fifty thousand marks was made for these new models. Within weeks he contracted for thirty-six of another DMG model with 8 hp engines. He was granted an exclusive concession to sell the new DMG automobiles in Austria-Hungary, France, Belgium, and USA.

That new model later would be named "Mercedes 35 hp" and it was a very important advance in automobile design. The contract called for delivery of the first automobile to Jellinek in the Fall, but it did not reach him until December 22, 1900. He became obsessed with the name Mercedes and even had his name changed to Jellinek-Mercedes. Jellinek was invited to sit on the DMG board of directors, which he did from 1901 until 1909, when he retired from automotive activities in favor of diplomatic appointments.

The name change also was helpful in preventing legal troubles, because after the death of Daimler, DMG had sold exclusive rights to the name, Daimler, and technical concepts to companies abroad. As a result, luxury automobiles branded Daimler were, and still are, built in England. A fire that gutted the old Steinway piano factory in New York, which had been converted to produce the new Mercedes models, cut short the dream of American production.


1930 Mercedes-Benz SSK "Count Trossi" in the Ralph Lauren collection.The rival companies of Daimler-Motoren-Gesellschaft (DMG) and Benz & Cie. started to cooperate in 1924, due to necessity arising from a troubled German economy after World War I, and finally merged in 1926 to become Daimler-Benz AG, which produced Mercedes-Benz automobiles and trucks. The merger agreement established that the two companies were required to remain together until 2000. While focusing on land vehicles, Mercedes-Benz also built engines to power boats and airplanes (military and civil), and even Zeppelins. Karl Benz died in 1929.

1955 Mercedes-Benz 300SL Gullwing Coupe from the Ralph Lauren collection.Although the brand is most famous for limousine models, a significant number of notable sports cars have also been produced. For example, the early supercharged SSK developed by Ferdinand Porsche. Another distinctive model was the iconic 300SL Gullwing of 1954; that was suggested by Max Hoffman, explicitly for the USA market, and introduced at the New York Automobile Show.

Mercedes-Benz has also produced higher volume, less expensive cars. Interestingly, the prototypes of the Volkswagen were built and tested in Stuttgart, in cooperation with Porsche. Before that, Mercedes-Benz had a similar rear-engined, yet rather unsuccessful, small car, the 130 H. In recent years Mercedes have produced the A-Class, relatively inexpensive compared to its other models. Also the Smart brand of small affordable automobiles has been part of the Mercedes-Benz Group since 1994 and are still producing cars today in conjunction with DaimlerChrysler AG.



The engagement of Mercedes Benz in motorsport

The two companies which were merged to form the Mercedes-Benz brand in 1926 had both already enjoyed success in the new sport of motor racing throughout their separate histories- both had entries in the very first automobile race Paris to Rouen 1894. This has continued, and throughout its long history, the company has been involved in a range of motorsport activities, including sportscar racing and rallying. On several occcassions Mercedes-Benz has withdrawn completely from motorsport for a significant period, notably in the late 1930s and after the 1955 Le Mans disaster, where a Mercedes-Benz 300SLR collided with another car and killed more than eighty spectators. Although there was some activity in the inteverning years, it was not until the late 1980s that Mercedes-Benz returned to front line competition, returning to LeMans and sportscar racing with Sauber.

This long absence inspired by the disaster is understandable considering that Mercedes-Benz is viewed by many to be the world's safety leader due to their dominant contribution to automotive safety as well as licensing their safety innovations for use by their competitors, placing family safety above profit and competitive advantage.

The 1990s saw Mercedes-Benz purchase engine builder Ilmor, and campaign cars at the famed Indy 500 race under the USAC/CART rules, eventually winning that race with Al Unser, Jr. at the wheel. The 90's also saw the return of Mercedes-Benz to GT racing, and the Mercedes-Benz CLK GTR, which took the company to new heights (both figuratively) by dominating the FIA's GT1 class and (literally) by notably taking flight at the end of a long straight at La Sarthe.

Mercedes-Benz is currently active in three forms of motorsport, Formula Three, DTM and Formula One. In Formula One, the company part owns Team McLaren and has supplied the team with engines since 1995. This partnership has brought great success, including back to back Drivers Championships for Mika Häkkinen in 1998 and 1999 and a Constructors championship in 1998. The collaboration with McLaren has been extended into the production of roadgoing cars such as the Mercedes-Benz SLR McLaren.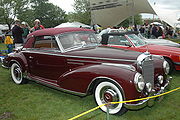 A classic Mercedes Nenz cabriolet from 1957 300c

(This information and pictures are mostly obtained from wikipedia.org, and is therefore free to copy and reuse)